Trying my hand at something a little different! These hand-made dimensional wood paintings are spray-painted on five sides and designed to hang flush, literally projecting a field of color and shape off the wall and into the room. While I have done my best to photograph the paintings accurately, they include metallic, fluorescent and matte-on-gloss (and vice-versa) paint effects which modulate the colors depending on lighting and viewing angle.

Each painting has been lovingly designed to last generations and is ready to hang on a sturdy picture hook (included). Signed, titled and dated on the back.

See larger pictures of all the paintings here!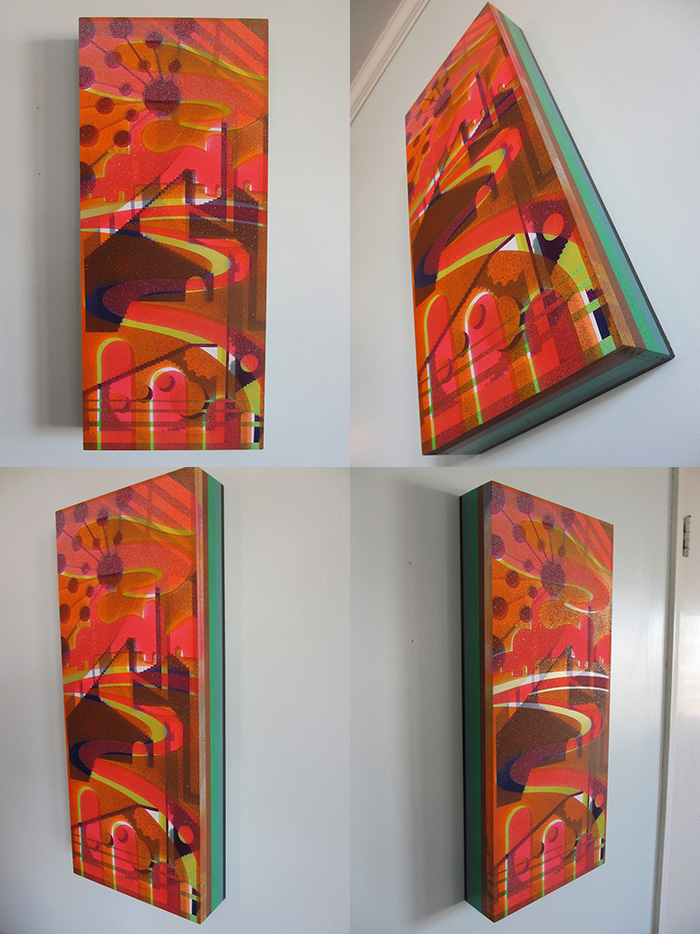 -A2- "Los Alamos"
10.25"x24"x3" 5 lbs.

$1175 (+55 S&H)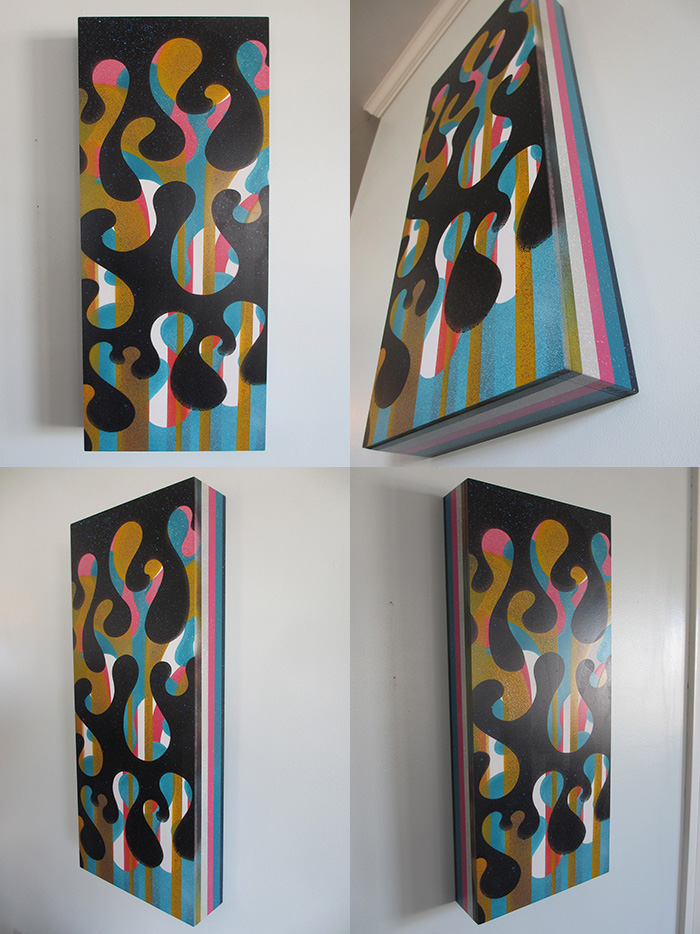 -A3- "Coral Peekaboo"
10.25"x24"x3" 5 lbs.

$1175 (+55 S&H)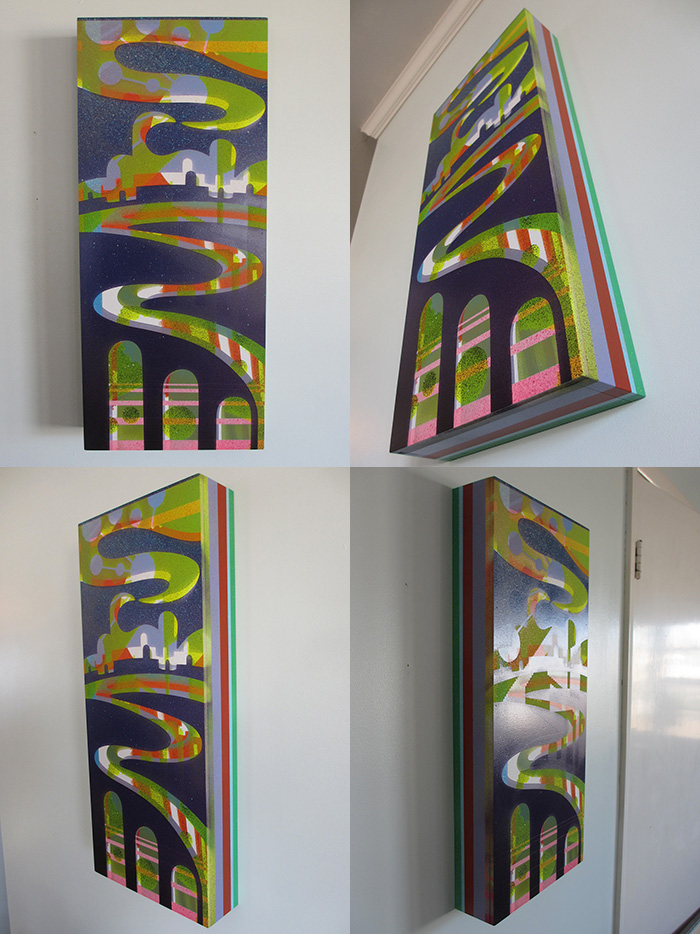 -A4- "Upwards And Onwards"
10.25"x24"x3" 5 lbs.

$1175 (+55 S&H)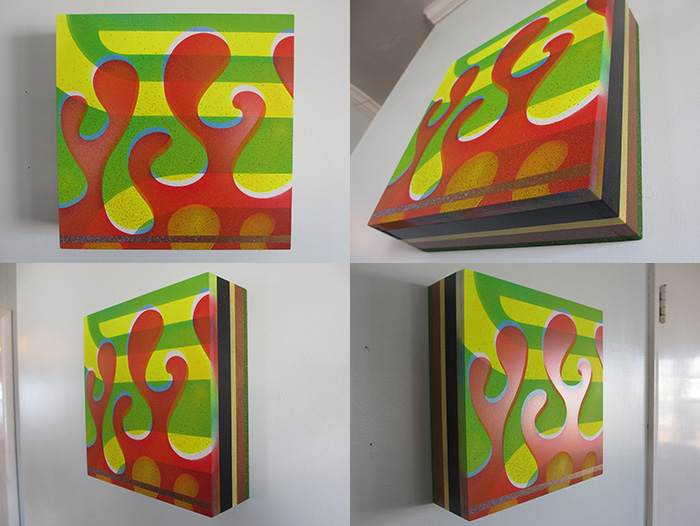 -A5- "Beach Bingo"
10.25"x10.25"x3" 3 lbs.

$575 (+35 S&H)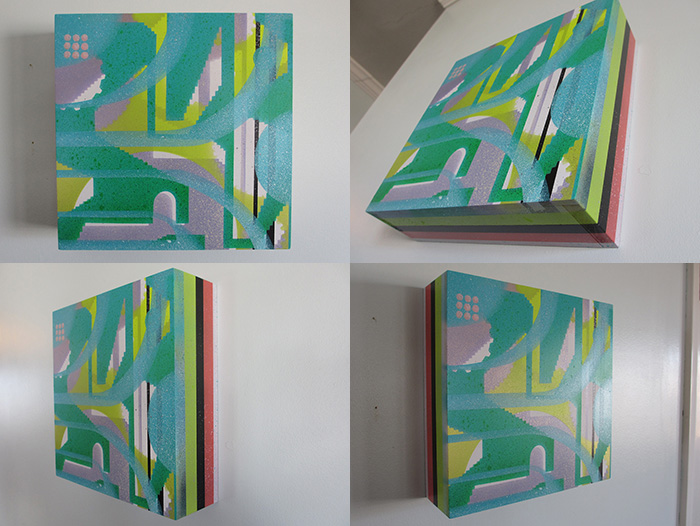 -A6- "Aqueduct"
10.25"x10.25"x3" 3 lbs.

$575 (+35 S&H)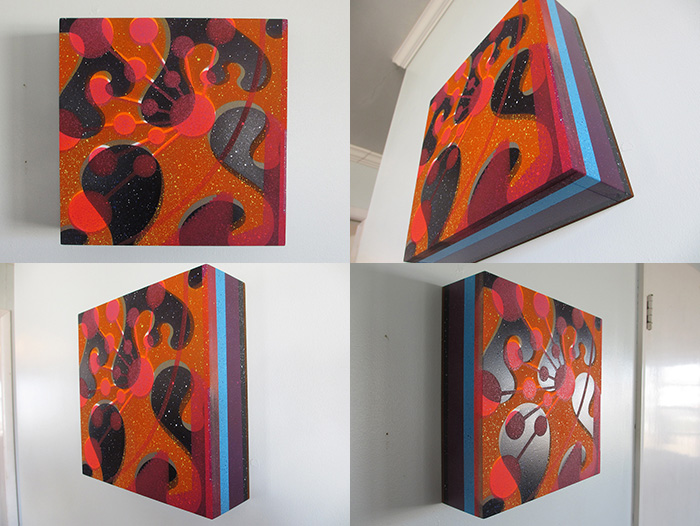 -A7- "Approaching Menace"
10.25"x10.25"x3" 3 lbs.

$575 (+35 S&H)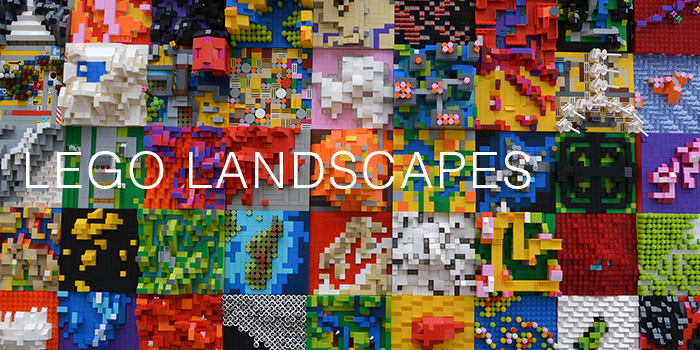 Original minimalist Lego landscape models for sale!
Shipped assembled, signed on the bottom, and you can take 'em apart and make something else if you like.
LEGO is a trademark of the LEGO Group, I am in no way affiliated with 'em
See larger pictures of all of these sculptures HERE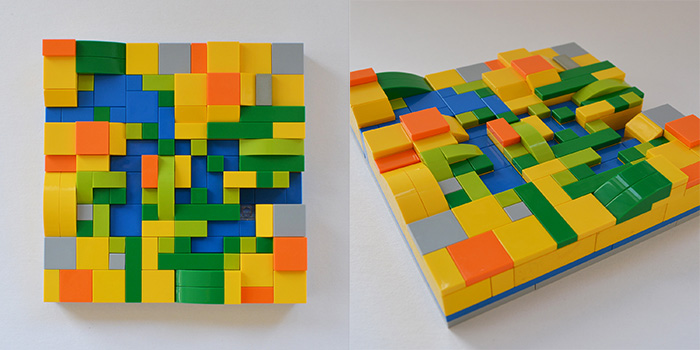 "Great Lakes" Lego Terraform
5"x5"x1.25"

$55 (+8 S&H)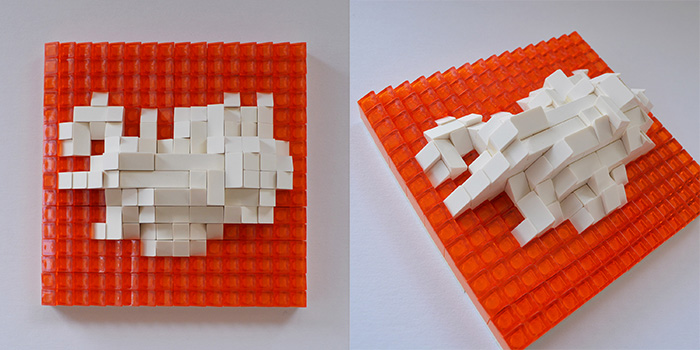 "Iceland" Lego Terraform
5"x5"x2"

$45 (+8 S&H)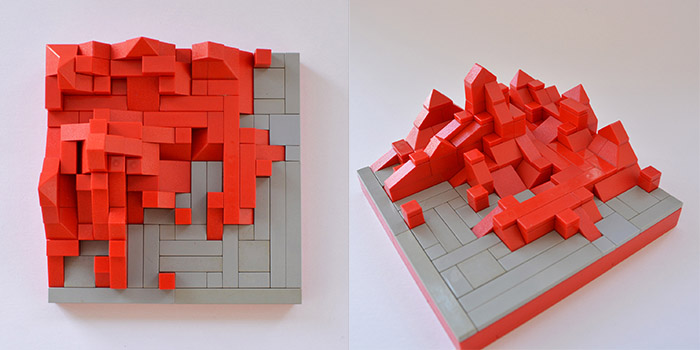 "Tokyo" Lego Terraform
5"x5"x2.75"

$50 (+8 S&H)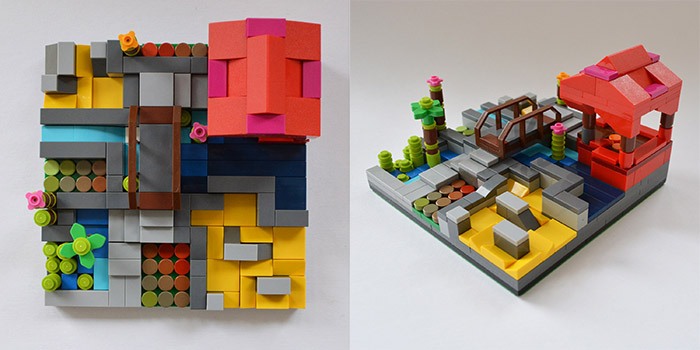 "Zen Garden" Lego Terraform
5"x5"x3.25"

$65 (+10 S&H)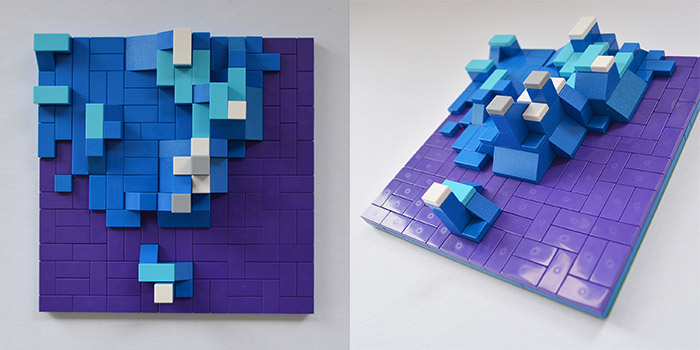 "Southeast Australia" Lego Terraform
5"x5"x1.5"

$50 (+8 S&H)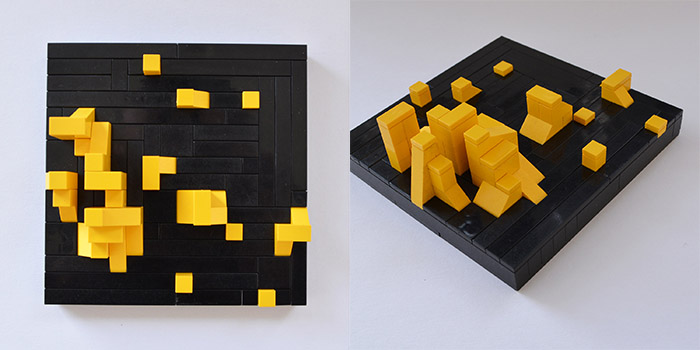 "The Galapagos" Lego Terraform
5"x5"x1.75"

$40 (+8 S&H)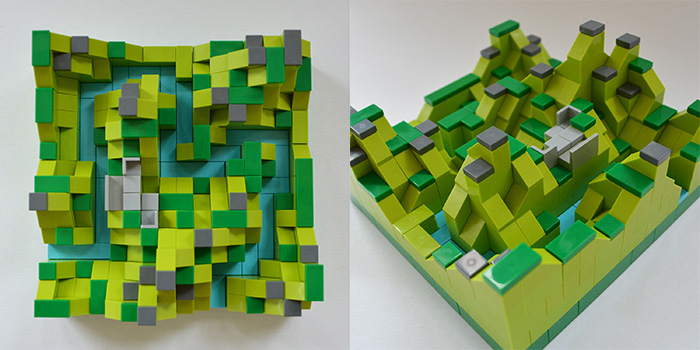 "Machu Picchu" Lego Terraform
5"x5"x3"

SOLD (7.24.16)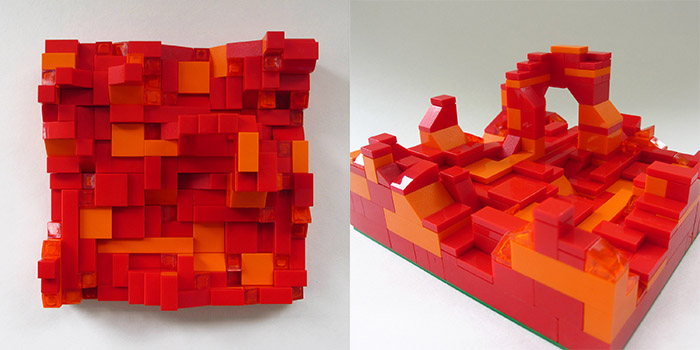 "Delicate Arch" Lego Terraform
5"x5"x3"

SOLD (4.25.18)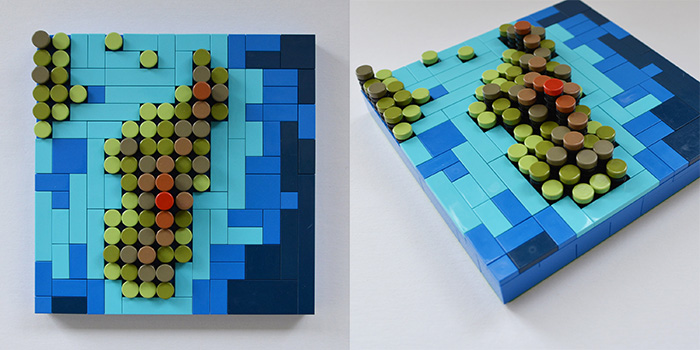 "Madagascar" Lego Terraform
5"x5"x1.5"

SOLD (4.12.16)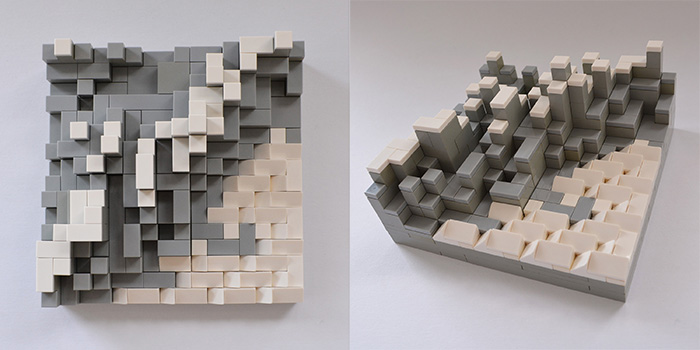 "New England" Lego Terraform
5"x5"x2.75"

SOLD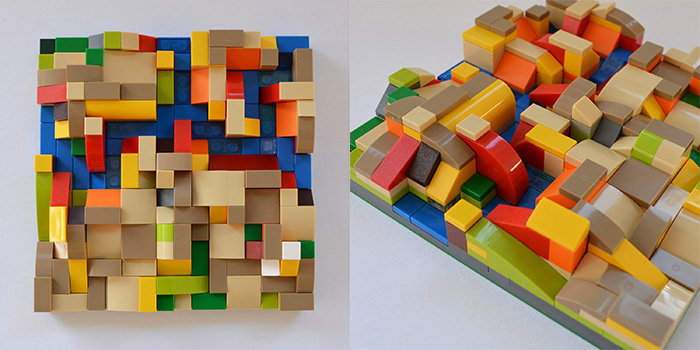 "Grand Canyon" Lego Terraform
5"x5"x1.25"

$65 (+8 S&H)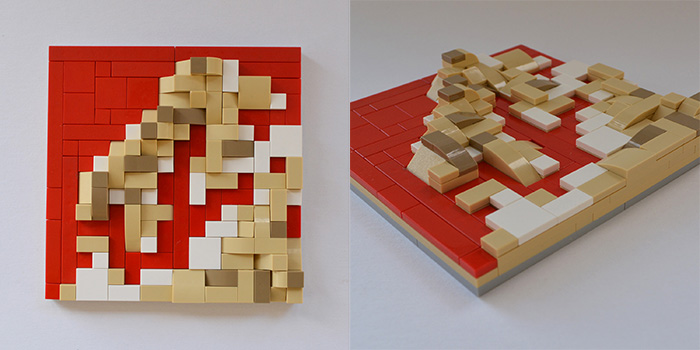 "Scandinavia" Lego Terraform
5"x5"x1"

$50 (+8 S&H)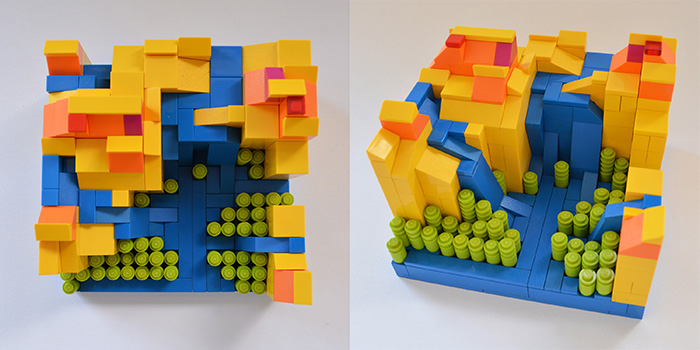 "African Rift Valley" Lego Terraform
5"x5"x3.75"

$75 (+12 S&H)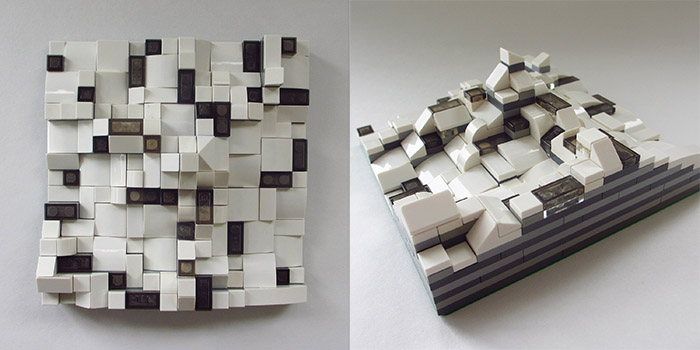 "Mount Everest" Lego Terraform
5"x5"x2.5"

$60 (+10 S&H)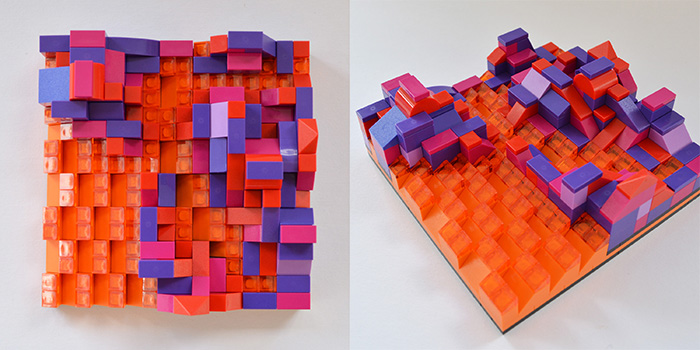 "Bay Area" Lego Terraform
5"x5"x2"

$65 (+10 S&H)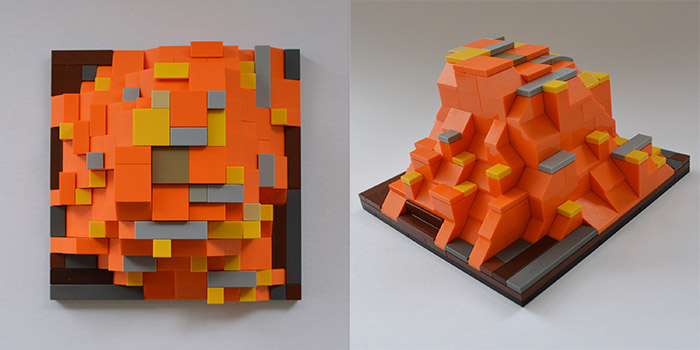 "Devil's Tower" Lego Terraform
5"x5"x3"

$75 (+12 S&H)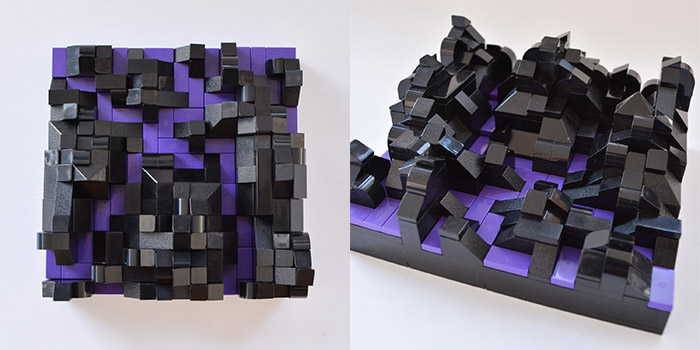 "Lucerne, Switzerland" Lego Terraform
5"x5"x2.75"

$60 (+10 S&H)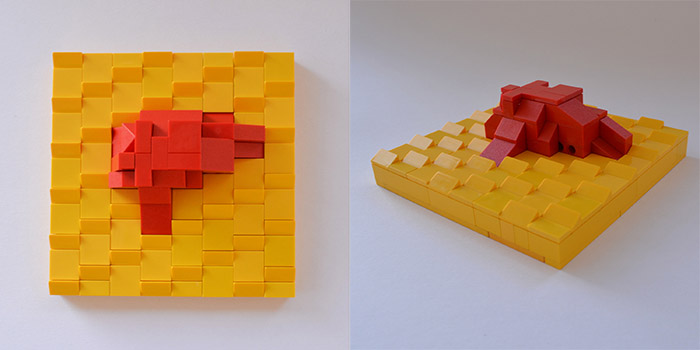 "Uluru" Lego Terraform
5"x5"x1.75"

$45 (+8 S&H)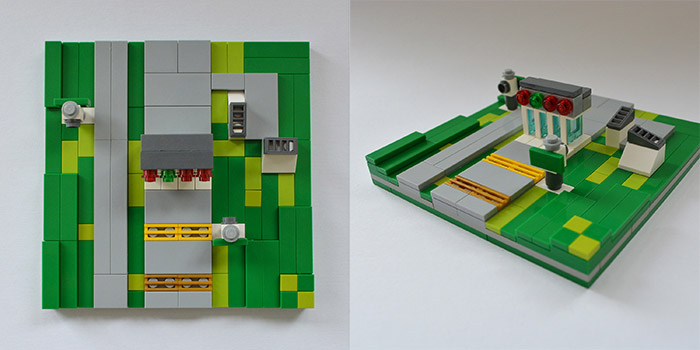 "New Gretna Northbound Toll Booth, Garden State Parkway" Lego Terraform
5"x5"x1.5"

$40 (+8 S&H)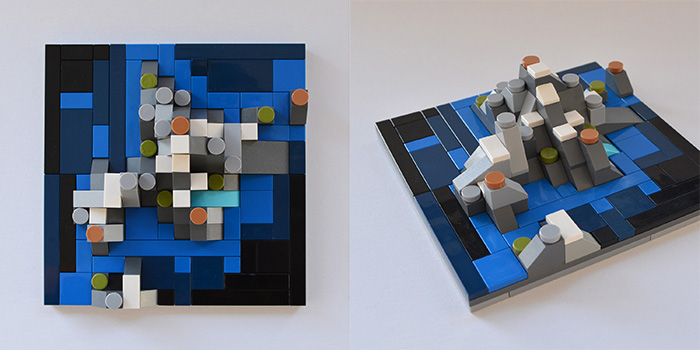 "Hokkaido" Lego Terraform
5"x5"x2"

$55 (+8 S&H)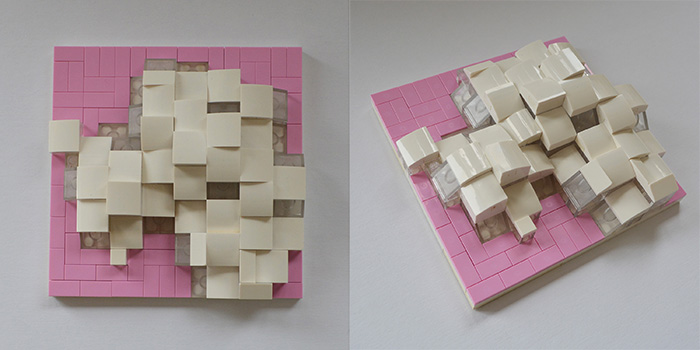 "Antarctica" Lego Terraform
5"x5"x2"

$45 (+8 S&H)






"Garden City, Kansas" Lego Terraform
5"x5"x0.75"

SOLD (4.12.16)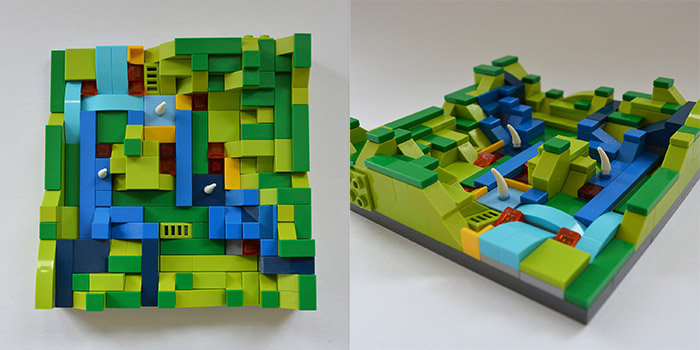 "Upper Geyser Basin, Yellowstone" Lego Terraform
5"x5"x1.5"

$60 (+8 S&H)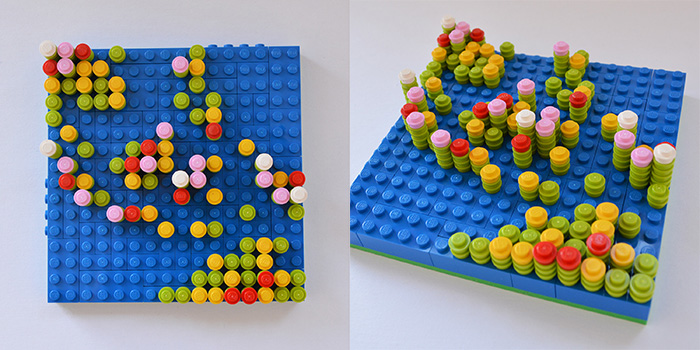 "Southeast Asia" Lego Terraform
5"x5"x1.25"

$40 (+8 S&H)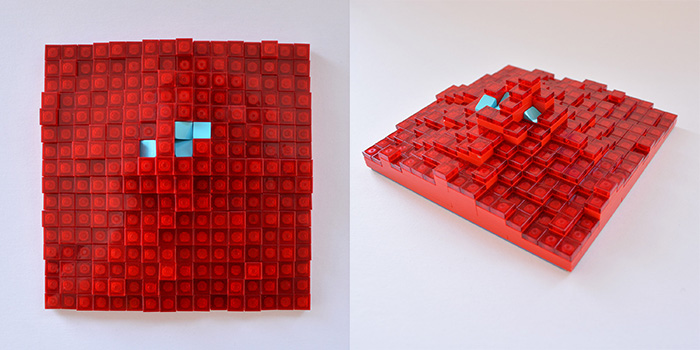 "Olympus Mons, Mars" Lego Terraform
5"x5"x2"

SOLD (4.12.16)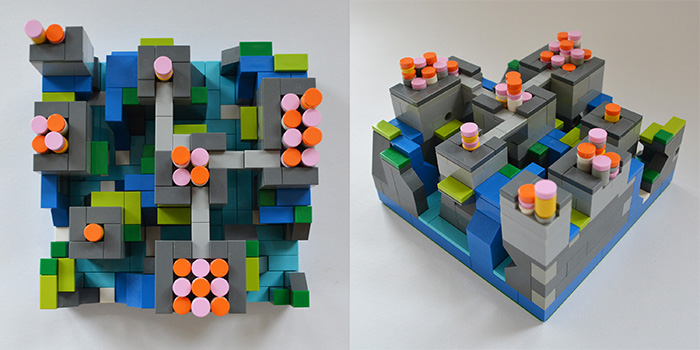 "Xanadu" Lego Terraform
5"x5"x3.25"

$75 (+12 S&H)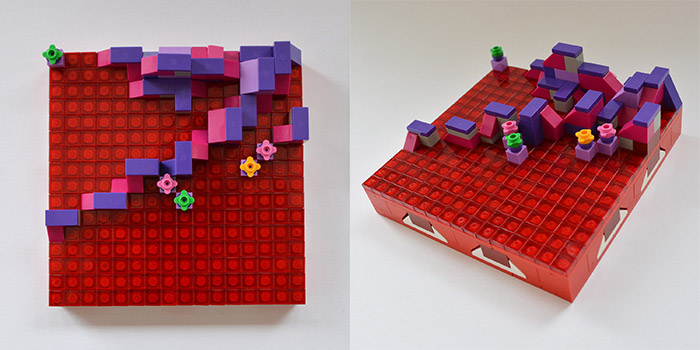 "Southwest Alaska" Lego Terraform
5"x5"x2"

$45 (+8 S&H)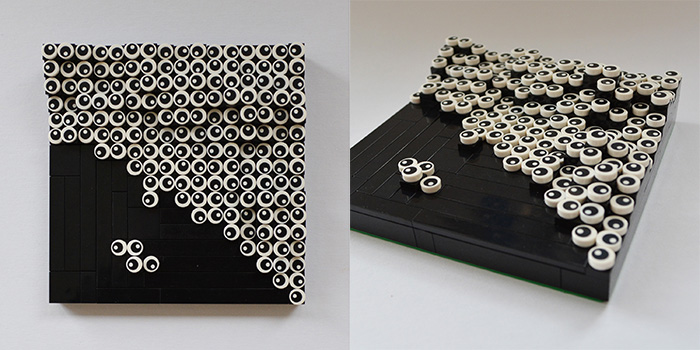 "Los Angeles" Lego Terraform
5"x5"x1.5"

$45 (+8 S&H)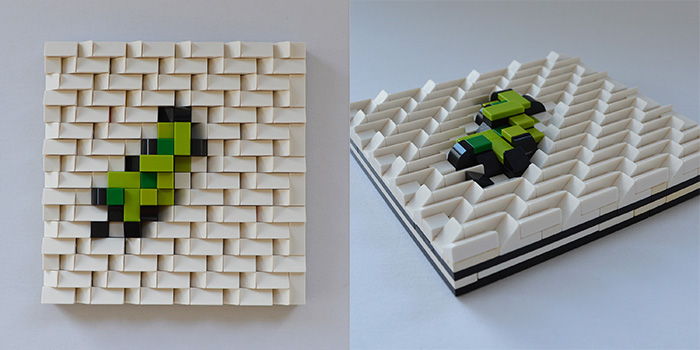 "Isle Of Man" Lego Terraform
5"x5"x1"

$45 (+8 S&H)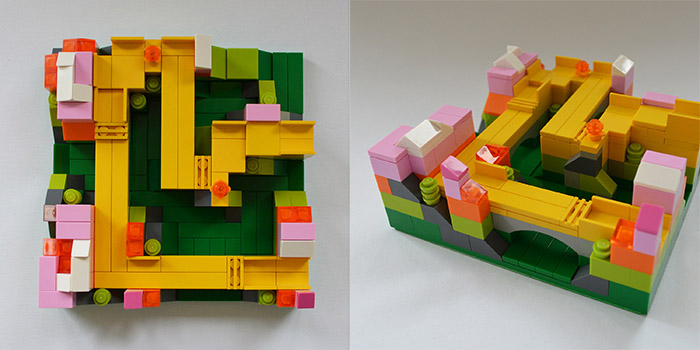 "Mountain Road" Lego Terraform
5"x5"x2.25"

$65 (+10 S&H)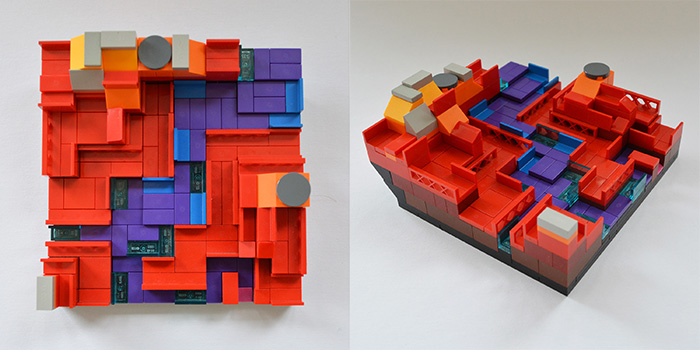 "Terraced Garden" Lego Terraform
5"x5"x2.5"

$65 (+10 S&H)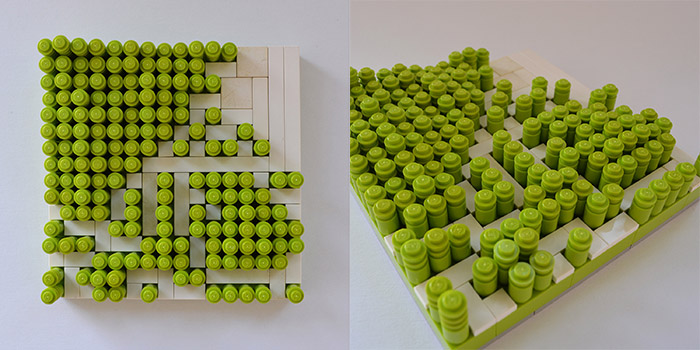 "Amazon River Delta" Lego Terraform
5"x5"x1.75"

$40 (+8 S&H)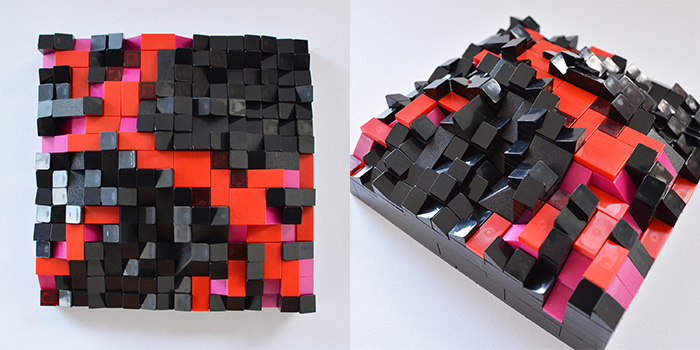 "Mauna Loa" Lego Terraform
5"x5"x2.25"

$65 (+10 S&H)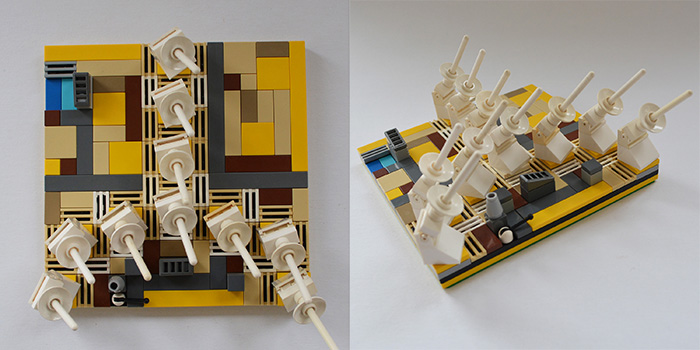 "Very Large Array" Lego Terraform
5"x5"x3"

SOLD "Everyone Likes Cake" Custom 8" Egg Qee
Painted ABS plastic 2009

SOLD (7.24.09)



All work (c) Chris Yates 2005-19