Hey, now I'm making Beer Stencil Paintings! They're made just like the Breakfast Paintings, but they are about the elixir of the gods. You can even choose what you'd like the painting should say! Woo! (Please keep the slogan to under 24 characters, if you don't choose a slogan, the default is "You Need A Beer")
BREAKFAST IS POWER! A bunch of silly paintings about breakfast.
Larger images can be found here
I first made a bunch of these for the breakfast joint near me in Boulder, but it seems like a lot of folks enjoy these, so I'm going to make the breakfast paintings available for a little while here in the store! These are painted with hand-made wooden stencils, so each one will be a little different and special!
Each painting is on 8"x8"x1/2" MDF, with a hanging wire and signature on the back. Please indicate in the "Note For Chris?" field which design(s) you would like!
Breakfast Painting (US/Canada)
SOLD OUT
Breakfast Painting (Worldwide)
SOLD OUT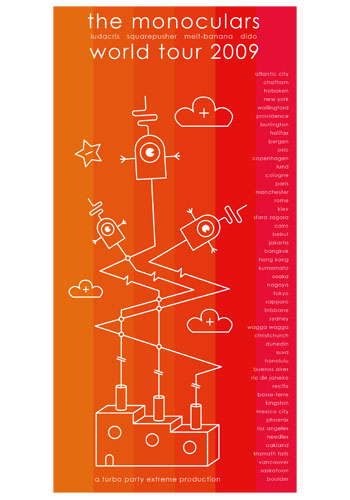 THE MONOCULARS WORLD TOUR 2009 POSTER (limited edition)
Larger image of the poster
Oh dear god,
the Monoculars
(aka Ovsepian, Gebremarium and Pupillo) are taking the planet by sonic storm this spring and summer! If they are actually able to deliver on this ridiculously ambitious city list and retain all the support personnel, I will be impressed. The Monoculars asked me to design a ultra-nice poster for their tour and I agreed. Mensa The Menacer helped!
This print looks so sweet in person guys. It is like candy.
22"x11" extremely vibrant, high-resolution archival prints on 48lb. UV gloss stock, Very Limited Edition of 64, signed by the artists and aliens, and numbered. Shipped rolled loosely in a rectangular box. And comes with random Monocular stickers!
The Monoculars World Tour 2009 Poster (US/Canada)
SOLD OUT
The Monoculars World Tour 2009 Poster (Worldwide)
SOLD OUT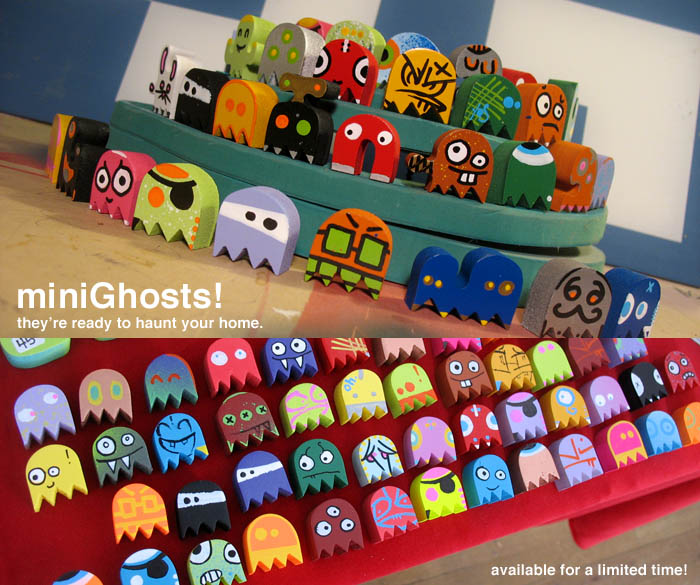 By far one of the most popular things on my convention tables, I've made the lil' wooden Ghosts available again for a limited time online, in lovingly selected assortments of six or thirteen. Perfect for the holidays or hoarding yourself -edit- MINIGHOSTS WILL ONLY BE AVAILABLE UNTIL 12.6.09 - EXTREMELY LIMITED STOCK Grab some while you can! What will you get? Pirate or Ninja? Beaver or Nerd? Moustachio or Constipated?? All of them? Who knows! But aren't they cute and awesome??
SOLD OUT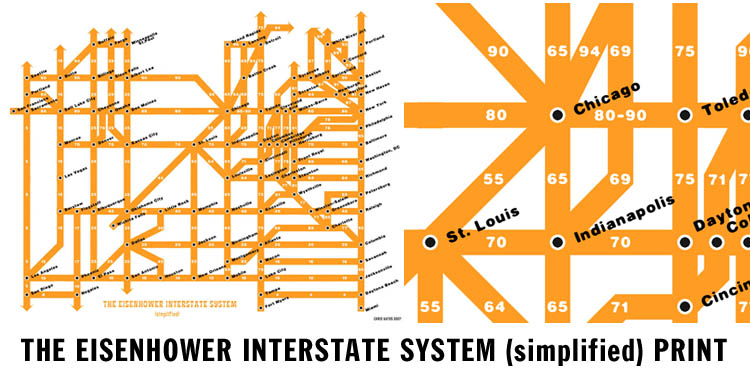 Larger image of the print
This exercise in graphic information conveyance is partially applying subway map style semiotics to the Interstate System, and partially illustrating the centrial arteries of the country. It is also neat-o to look at.
16"x20" lovely, high-resolution archival prints on 35lb. coated matte paper, Edition of 1000, signed and numbered.
SOLD OUT

The Poop Sign is such a sophmoric silly thing, but oh how everyone seems to enjoy it! Inspired by
this comic
starring Box-Head and myself, these professionally made vinyl & aluminum Poop Signs are 8" wide and come with double-stick tape on the back, so they're ready to be mounted anywhere you might need a Poop Sign! Don't miss out on this amazing opportunity, because a Poop Sign will be the holiday gift that everyone will remember and delight in!
"It looks like a stop sign but it says poop instead of stop! It's crazy!"
POOP SIGNS ARE NOW AVAILABLE EXCLUSIVELY AT
POOPSIGN.COM
This Wonderful Stuff is Copyright Chris Yates 2004-08